 Winner Art of Neuroscience competition 2023
23 June 2023
During the live award ceremony at the Singelkerk in Amsterdam which attracted 140 attendees, the winner of the 13th edition of the Art of Neuroscience competition was announced. Andrew J. Brooks, an artist, architect, educator, musician, composer, curator and gallery director won with his project 'FND stories. Andrew aims to capture the stories and lived experience of those diagnosed with neurological condition, Functional Neurological Disorder, through art. The winner was chosen by a jury out of 158 entries from over 26 countries. 
Functional Neurological Disorder (FND) is a common and disabling cause of neurological symptoms. Patients experience neurological symptoms such as weakness, movement disorders, sensory symptoms and blackouts. The multidisciplinary exhibition, FND Stories is based on in-person interviews with 6 people from around the UK who live with FND along with contributions from over 90 of those diagnosed from around the world. The interviews gave first-hand accounts of living with FND. The artwork uses a range of media including silent video, text-based art, and large-scale ink and gold leaf pieces.
HONORABLE MENTIONS
Hung Lu Chan receives an honorable mention for 'Martians Incubation Lab'. Hung Lu Chan is a designer and maker based in the Netherlands and Taiwan. He is interested in the theme of otherness imagination and exploring its political entanglement with societies, technologies, and futures. His project proposes a mind-body practice that establishes the spiritual relationship between the self and Mars by projecting our inner consciousness onto the perceptions of Martian lives. Combining scientific-based guided meditation, brainwave sensing, and neurofeedback, the aim is to challenge our biases and emotions toward aliens from within.
Bart Lutters (PhD candidate in the History of Medicine and artist) receives an honorable mention for 'The Forgotten Giants of Neuroscience'. Bart has adopted an art-based approach to better understand the different ways in which historians and physicians reconstruct the fractured lives of neurosurgical patients of the past. In this collage series, he draws upon historic archival material and his knowledge of the history of the brain to represent the lived experiences of the forgotten individuals who, by participating in experimental neuroscientific procedures in the past, made an invaluable contribution to neuroscience today.
Alexandra Davenport, an independent artist and visiting lecturer at the University of Portsmouth (UK), receives an honorable mention for her work 'Plassein.' This choreographic interpretation explores neuroplasticity through performance and moving images, investigating reorganization, adaptation, and growth. The piece emphasizes the body as a site for knowledge production and exchange, with performers creating new connections and pathways. The camera also becomes a performer, capturing and creating movement. In contrast to the hyper-productivity of today's society, 'Plassein' offers an alternative perspective that encourages learning, growth, and exchange over relentless production and consumption.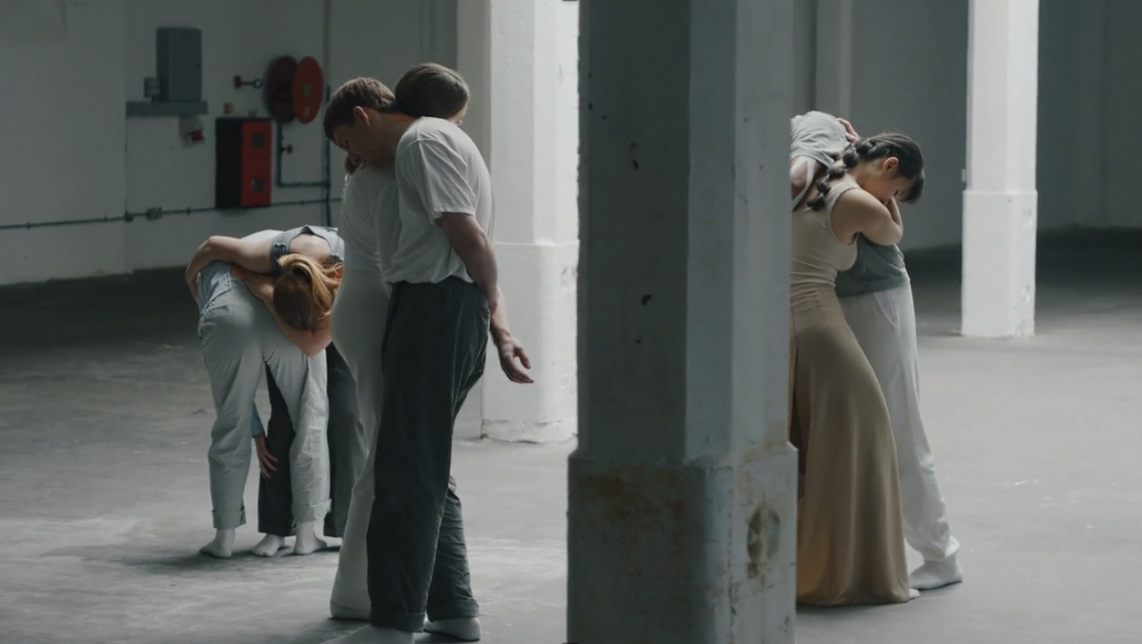 Link to view the full film: https://vimeo.com/684711605/654d80f764
Lucia Rohfleisch, an independent artist and Research Master's student, receives an honorable mention for 'The Alzheimer's Eye.' This digital image showcases various diagnostic markers for Alzheimer's Disease, including loss of retinal blood vessels, neurofibrillary tangles, amyloid beta, reduced neuroplasticity, dysregulated blood-brain barrier transport, blood-brain barrier breakdown, and the dementia clock test. Lucia is currently conducting her master's thesis project at Imperial College London, focusing on the administration of a novel compound to treat Alzheimer's using Focused Ultrasound and Microbubbles.

COMPETITION
Art of Neuroscience started in 2011 at the Netherlands Institute for Neuroscience as a competition for inspiring and provocative imagery from neuroscience labs. The goal has been to make the research from neuroscience labs more tangible, but also aims for scientists to evaluate their own work from a different perspective. In previous editions it has welcomed artists to also submit work inspired by the brain to stimulate the cross-over between neuroscience and art.
More submissions can be found on the website of the Art of Neuroscience.
Support our work!
The Friends Foundation facilitates groundbreaking brain research. You can help us with that.
Support our work